A manager should be ambitious and aim high when setting targets for staff. Challenging yet achievable goals are essential to keep employees motivated to improve performance and maintain high standards.
Look at the current levels of performance and identify ways of improving the skills and knowledge of staff. A manager has to ensure any targets set are in line with the policy and goals of the company as a whole, and try to be consistent in their expectations of other people.
Consider the key areas of a team member's job and then draw up suitable targets for each of those areas. Of course, a manager has to be able to monitor and measure an employee's progress and performance if it is to be a worthwhile exercise. Bear this in mind when setting the goals and ensure the necessary information will be accessible.
Divide Tasks Evenly
When setting targets for the whole team, think about the contribution each team member must make and how these contributions can be measured. Try to divide the task evenly, so that if one person misses the target but everyone else achieves it, there is a good chance that the team will achieve its aim.
Management should not look at what is being achieved now when setting standards, but focus on what would be ideal. Learn more about the level of competency needed to do jobs successfully by talking to people with experience in the roles; either staff who have done the same work effectively or outside experts in the field. Rather than focus on the people currently doing the jobs, concentrate on the jobs themselves and the desired results.
A good manager will prepare team members for impending change before it occurs. Realise when the requirements of an employee's role are changing and plan accordingly. If a role is altered, additional skills may be needed. Check if the team member has already demonstrated those skills sufficiently, or if there are any areas where the employee is lacking skills.
Improve Skills and Knowledge
When a manager identifies a need to improve the skills and knowledge of staff, they should plan suitable training and a timescale for its completion. Check that there is a budget in place to fund the training and that the department will be able to release the team member from normal duties during the training period.
By planning ahead, management should be able to deliver results even through a period of transition. This is because team members will not be disrupted by the change and so will be able to maintain consistent performance.
Don't stay quiet about team members who meet targets. Instead, offer rewards to recognise such achievements, as this can motivate others to strive for even greater success in the future. Remember too that rewards do not need to take the form of big financial prizes. It is part of a manager's role to make employees feel important and appreciated. A simple "thank you" is a reward of sorts, so take every opportunity to praise staff.
Handling Staff Performance Problems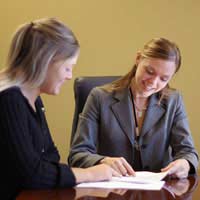 Tackling poor performance is a challenge for all managers. Before steps can be taken to resolve the problem, a manager must get the employee to acknowledge that the problem exists. Only then can it be dealt with constructively by identifying causes and asking the employee to come up with effective solutions.
Management must get staff to understand the impact their poor performance has in terms of meeting objectives, otherwise they will not commit to solving the problem. Explain how it has affected the team or the company as a whole. Once the employee has accepted that there is a problem, ensure they understand where they have gone wrong and the impact of allowing the problem to persist.
It is up to management to explore the reasons for the problem and look for ways of resolving it. Ask the employee to analyse the cause, as they may be able to provide a valuable insight into what has gone wrong. Of course, there may be more than one factor contributing to the problem. Perhaps machinery and materials are inappropriate, maybe an insufficient budget is holding the individual back or it is possible that organisational processes are contributing to the poor performance.
Promote Self-Help
Avoid discussing problems that do not affect performance and if an employee is reluctant to take action, stress the gains to be made. The best solutions are those that staff discover themselves. Ask employees to come up with ways of resolving issues or avoid problems arising next time. Management should only offer their own ideas if necessary.
Discuss the options before making a decision. If employees suggest unrealistic solutions, ask them to discuss the advantages and disadvantages of the proposal and any risks attached. This can help the employee work out a more acceptable plan of action. Try to reach agreement on both short and long-term plans that will solve the performance problem immediately and then continually improve performance.
There are different ways to address different performance problems. If an employee is incapable of doing the job, perhaps due to a lack of skill or experience, management should provide the support and training necessary to allow the employee to tackle the job effectively and then set objectives for continuous improvement. If training is not the answer, consider moving the employee to a more suitable role.
Be Sympathetic
When an employee is unable to concentrate due to a personal problem, be sympathetic and, if necessary, allow the team member time off work to address the problem. If motivation is lacking, maybe due to boredom, try to identify training that will re-energise the employee. When a team member is stressed by too great a challenge, management should review the tasks delegated to find out if the employee is being over-stretched.
If a team member feels alienated, find out how the problem has arisen. It may be that the employee feels neglected or perhaps he is rejecting the job and the company having felt frustrated for a long time due to a lack of a challenge.
Evaluating Staff Performance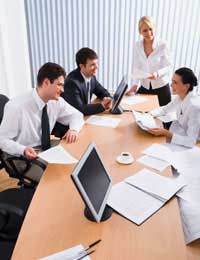 Performance management is a key aspect of a manager's role. By evaluating an employee's progress in terms of performance and development, a manager is able to set new objectives and plan tasks effectively for the period ahead.
First examine the employee's job description to ascertain whether roles or responsibilities have changed since the last appraisal. If there have been any alterations, ensure that these are in the best interests of the company and not just the employee. For instance, an employee who prefers to find new customers rather than deal with existing ones, may move the emphasis of their job accordingly. Rather than just allow this change in job description, a manager should consider training the employee in customer service.
When a manager reviews an employee's achievements against their objectives, consider the facts and disregard rumour or hearsay. Of course, it is against the law to discriminate on grounds of race, colour, nationality, ethnic origin, age, sex, sexual orientation or anything else. A manager must not say or do anything that could be interpreted as a breach of this law.
Praise Successful Employees
Try to pick out aspects of an employee's performance that are worthy of praise. Perhaps the employee has shown a positive attitude or planned, coordinated and organised tasks successfully. Encourage the employee to keep up their high standards and check that the employee has been rewarded or praised for carrying out tasks successfully.
If an employee's performance has fallen short of what is expected, consider the possible reasons for this. It can be good management practice to turn a blind eye when an employee underperforms. Negative feedback may not be necessary if it is a minor issue, particularly if good results have been achieved in other areas, so weigh up whether the area of under-performance is really important.
The next step in performance management is to check whether staff have the time to focus on development. It is important to ensure continuous development, so it may be worth shuffling resources if necessary. If development targets set at the last appraisal have been met, it can demonstrate to management that the time and money spent developing staff is worthwhile. Check too that the development has improved performance to a level that affected business results.
Development Targets
If an employee has not met development targets, management should investigate the reasons for this. Check that targets were clearly defined and look for any barriers that restricted development. Some problems an employee has may be out with a manager's control. Nonetheless, management has to be satisfied that the employee is capable of developing enough to reach the required standard.
A crisis in the office can cause an employee to miss a course and so lose out on a development opportunity. Management should ensure the postponement was truly necessary and could not have been avoided by simply reshuffling resources.
It is also important for a manager to assess how effective different types of development activities are for different individuals. If, for example, an employee reads a book or watches a DVD and the information received is not applied at work, the employee may benefit from an alternative method of learning.